Santa Monica
Surrounded by the Pacific Ocean on one side and the city of Los Angeles on the other three, Santa Monica is a bustling city known for it's wide sandy beaches, Third Street Promenade shopping area and pier, which is home to an amusement park, restaurants and live music venues.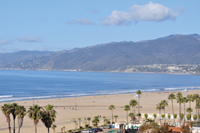 Points of Interest
Third Street Promenade
An outdoor pedestrian mall stretching from Broadway to Wilshire Boulevard that features clothing stores, fine restaurants, live street performers and over a dozen movie screens.


Bergamont Station
A city-owned gallery compound that includes the Santa Monica Museum of Art as well as many galleries that feature local and national artists.


The Santa Monica Pier
Located at the end of Broadway and rising above the bike path and the Santa Monica Hippodrome (a National Historic Landmark Carousel), the Santa Monica Pier offers amusement park rides and games, an aquarium, live music concerts in the summer and fine dining year round.


Palisades Park
Running the length of the bluffs overlooking the Pacific, Palisades Park is an expanse of manicured lawns that is very popular as a gathering place for locals out for a stroll, a run or a dog walk.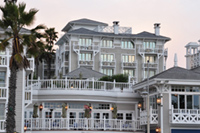 Neighborhoods
The Bayside District
This "Downtown" district encompasses the Third Street Promenade and is the city's shopping district.


Mid-City
Home to Sony, MTV and Universal as well as Bergamont Station, Mid-City is where you'll find the city's thriving art district.


Montana Avenue
Distinctly upscale, Montana Avenue is where you'll find luxury goods, unique clothing stores, cafes and restaurants. The residential neighborhood surrounding Montana Avenue is known for large lots and beautiful homes.


Main Street
Borrowing the laid back vibe of Venice, Santa Monica's Main Street is home to many restaurants, cafes and clothing stores. On weekends the Main Street farmer's market takes over and the parking area near Ocean Blvd. becomes a pedestrian mall where much more than fruits and vegetables are offered for sale.


Ocean Park
Smaller in scale than most other Santa Monica neighborhoods, the Ocean Park area offers a park, restaurants and salons to local residents. The homes here are more modest than those you'll find near Montana Avenue or closer to the beach.


Pico Boulevard
This is where Santa Moncia College is located, and where many small businesses and restaurants can be found.


Santa Monica Airport
The Santa Monica Airport is more than the city's air transportation hub, it is home to a lively artist community, a monthly antique flea market and several popular restaurants.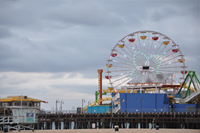 Restaurants
Schools
Community Statistics
People

Population: 88,050
Population Density: 10,672
Median Age: 42.3
Married: 39.81%
Single: 60.19%
Average Household Size: 1.82 people
Median Household Income: $58,735
Housing

Median Home Age: 42 Years
Median Home Cost: $1,495,500
Home Appreciation: -2.14%
Homes Owned: 27.54%
Property Tax Rate: $8.38
Climate

Rainfall (in.): 13.2
Precipitation Days: 24
Sunny Days: 281
Elevation: 79 ft.
Education

School Expenditure per Student: $5972
Pupil/Teacher Ration: 21
High School Grads: 90.19%
2 Yr. College Grads: 6.01%
4 Yr. College Grads: 31.41%
Graduate Degrees: 23.22%
Voting

Democrat: 63.102%
Republican: 35.598%
Independent Other: .282%
Independent Liberal: .409%
Independent Conservatives: .609%